Daily Archives:
December 23, 2008
[via xkcd]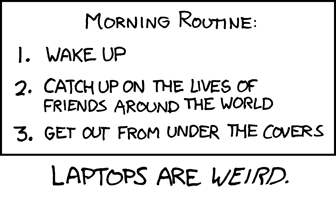 I was talking about yesterday about people FLYING with nothing else than an air suit, and I just stumbeled n this dude…Â 
Swiss professional pilot Yves Rossy, the world's first man to fly with fitted jet fuel powered wings strapped to his back, flying during his first official demonstration. Rossy flew into the history books by crossing from France to Britain on only a jet powered wing, describing afterwards, how he felt like a bird over the English Channel.
Yves Rossy 49, touched down in a field on top of the white cliffs of Dover after completing the 35- kilometer journey over one of biggest shipping lanes.
He had nothing above him but four tanks of kerosene and nothing below him but the cold waters of the English Channel. But Yves Rossy leapt from a plane and into the record books on Friday, crossing the channel on a homemade jet-propelled wing.
Rossy jumped from the plane about 8,200 feet over Calais, France, blasting across the narrow body of water and deploying his parachute over the South Foreland lighthouse, delighting onlookers who dotted Dover's famous white cliffs, cheering and waving as Rossy came into view.
Backed by a gentle breeze, Rossy crossed the Channel in 13 minutes, averaging 125 miles per hour. In a final flourish, he did a figure eight as he came over England, although the wind blew him away from his planned landing spot next to the lighthouse.
"It was perfect. Blue sky, sunny, no clouds, perfect conditions," the Swiss pilot said after touching down in an adjacent field. He said he wanted to show, "it is possible to fly, a little bit, like a bird."
Onlookers scooped up their children, picnics and dogs to race to the landing site as Rossy posed for photographs. His ground crew doused him with champagne, and the pilot swigged greedily from the bottle as he waved to the band of onlookers gathered to cheer him and take pictures with cell phone cameras.
A small airplane zipped across the sky with a banner that read: "Well done Jet Man."
Rossy said he had watched passenger ferries cutting a path between the Britain and France as he tore through the air.
"I was happy to be faster than them," he said. He said the Channel crossing was the realization of a dream. "That's the most gratifying thing you can do," he said. Rossy's trip – twice delayed due to bad weather – was meant to trace the route of French aviator Louis Bleriot, the first person to cross the narrow body of water in an airplane 99 years ago.
The Channel has attracted a range of adventurers and stuntmen over the years, most drawn to the 21-mile wide neck of water between Dover and Calais.
Frenchman Jean-Pierre Blanchard and American doctor John Jeffries were the first to fly from Britain to mainland Europe in a hot air balloon in 1785.
Rossy's wing was made from carbon composite. It weighs about 121 pounds when loaded with fuel and carried four kerosene-burning jet turbines. The contraption has no steering devices. Rossy, a commercial airline pilot by training, wiggled his body back and forth to control the wing's movements.
He wore a heat-resistant suit similar to that worn by firefighters and racing drivers to protect him from the heat of the turbines. The cooling effect of the wind and high altitude also prevented him from getting too warm.
Rossy, who spent months preparing for the cross-Channel flight, has said he wants to fly across the Grand Canyon in Arizona next.
As for the 13 lonely minutes he spent aloft between England and France, he assured reporters he felt no fear.
"I was under tension. But fear? The day I fear, I don't go," Rossy said
## Acest post contine materiale *extreem geek*. Ati fost avertizati. Â 
Si daca tot lucrez mai nou intr-un mediu care imi da de lucru cu diversi programatori, am gasit pe junk@ o treaba interesanta. Multumiri lui Pasha care ne-a adus aceasta mirifica sursa de zambete 😉
In prima faza, LOLCode:
LOLCODE is an esoteric programming language inspired by the language expressed in examples of the lolcat Internet meme.[1] The language was created in 2007 by Adam Lindsay, researcher at the Computing Department of Lancaster University.[2]

The language is not clearly defined in terms of operator priorities and correct syntax, but several functioning interpreters and compilers already exist. The language has been proven Turing-complete
Si apoi, bineinteles, BRAINFUCK:
Brainfuck is an esoteric programming language noted for its extreme minimalism. It was designed to challenge and amuse programmers, and is not suitable for practical use.[1] Its name has been variously bowdlerized, as in brainf*ck, brainf***, b****fuck or brainfsck. The name of the language is generally not capitalized, although it is a proper noun.
Enjoy your holidays, and happy coding!